Smoking Cessation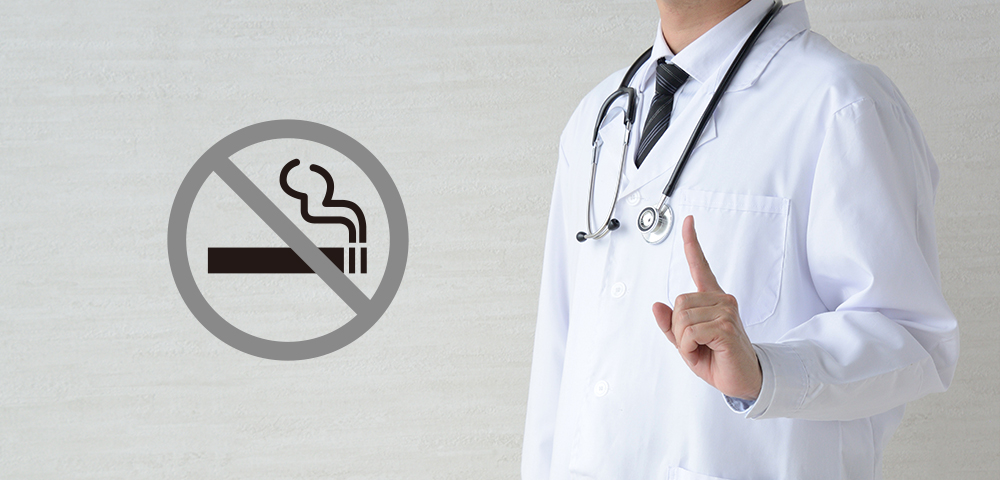 "Smoking" is neither a choice nor a habit. It is an addiction to nicotine, an illness.
Together, let's quit smoking today.
Smoking is not just a lifestyle, but one of the illnesses called "nicotine addiction." 70% of smokers are considered "nicotine addiction" and need treatment. However, even if you think "let's quit smoking", it is difficult to succeed. Psychological dependence on smoking is stronger than expected, and there is also physical dependence on nicotine, which causes withdrawal symptoms such as frustration. In our clinic's smoking cessation treatment, doctors provide physical and mental support and prescribe special drugs to actively support patients so that they can quit smoking. If you are worried about quitting smoking, please feel free to contact us.
About the treatment program
We run a standard treatment program, with a single treatment cycle consisting of 12 weeks. One treatment cycle, with national insurance coverage, will cost roughly 20,000 yen(*), which includes the initial consultation and subsequent follow-up consultation fees as well as the medication costs.
(*The cost is assuming that treatment is for smoking cessation only, and that there is a 30% co-payment. Costs are subject to change if, for example, you are concurrently being treated for other illnesses.)
[Smoking Cessation Treatment Program Timeline]


① Initial Consultation
Your initial visit will consist of a physician's consultation, an explanation of the treatment program, the administration of a carbon monoxide test(*), and a prescription for the medication.
* What is a carbon monoxide test?
Carbon monoxide is a harmful substance commonly found in cigarette smoke. With this test, we can measure the carbon monoxide levels in your breath just by having you exhale into a machine for 20 seconds.
Because the carbon monoxide levels begin to decrease once you quit smoking, we can monitor the treatment's effectiveness by comparing your measurements at every visit.
② Starting Date
You may continue smoking up until a week after beginning the medication. However, during that time, you will gradually lose the desire to smoke.
③ Clinic Visits
After that, please come in for your clinic visits according to the treatment schedule. At each visit, we will administer a carbon monoxide test and provide you with your prescription.
④ Final Visit
The 12th week is the final week of the treatment program. Let us look over your day-to-day lifestyle habits to avoid any relapse.
How to get insurance coverage for the treatment?

With nicotine dependence widely recognized as an illness, it is now possible to get insurance coverage for smoking cessation treatments if specific requirements are met. You can get insurance coverage if you meet the following requirements, so please take a look. *Please note, the treatment is still available at an out-of-pocket price even if you do not meet the requirements.

① You wish to start quitting within the next month

② You agree to the explanation regarding the smoking cessation treatment program provided by the physician

③If the value calculated using the following formula is over 200. Number of cigarettes smoked per day × Number of years smoking Year(s)
=
*Starting April 2016, this requirement no longer applies to people under the age of 35.

④ If you score five points or higher on the following test for nicotine dependence (five or more YES items in the table below)

[Test for Nicotine Dependence]

YES
NO
Q1
Have you ever smoked more cigarettes than you intended to?
Q2
Have you ever tried quitting or reducing the number of cigarettes but couldn't?
Q3
Have you ever had cravings when you tried quitting or reducing the number of cigarettes?
Q4
Have you ever experienced any of the following symptoms when you quit smoking or reduced the number of cigarettes?
Irritability, anxiety, restlessness, difficulty concentrating, depression, headaches, drowsiness, upset stomach, slower heart rate, hand tremors, increased appetite, or weight gain.
Q5
Have you ever relapsed to avoid the symptoms mentioned in Q4?
Q6
Have you ever smoked when you were seriously ill, knowing it was harmful to you?
Q7
Have you ever smoked, knowing that cigarettes were causing you health problems?
Q8
Have you ever smoked, knowing that cigarettes were causing you mental health problems?
Q9
Have you ever felt like you were dependent on cigarettes?
Q10
Have you ever, on multiple occasions, avoided work or social relationships that prevented you from smoking?
Final Score
0
0
You may attempt the treatment again, if it has been over a year since the initial consultation date of your previous treatment cycle.
If it has been under a year since your last insurance-covered smoking cessation treatment, your next treatment must be paid out-of-pocket. Please note that only the physician can make the medical diagnosis of nicotine dependence. Even if you have attempted treatment in the past but relapsed, why not take this opportunity to try again?
For smoking cessation treatment, please schedule
an internal medicine appointment.
Outpatient Services by appointment priority

03-3231-2071

Telephone reception: Mon-Fri (excl. holidays)
9: 00-12: 30 / 14: 00-17: 30