A health screening course for first-timers
Health Screening
[Basic course / Upper GI X-ray]
72,600

yen (tax included)
*Upgrade to upper GI endoscopy +¥8,800(Tax included)

A standard course, which includes a general medical checkup, blood testing, abdominal ultrasound, GI testing, prostate cancer testing, and ovarian cancer testing for men and women, respectively. You can discuss your basic blood panel results with the doctor during your consultation, a key feature that is popular among our first-time users.
Basic examinations
Blood tests
Electro-cardiogram
Chest X-ray
Chest CT
Upper GI X-ray
Abdominal ultrasound
Tumor markers
Upper GI X-ray

The upper GI x-ray checks the condition of the esophagus, stomach, and duodenum using a barium contrast medium that is ingested. Our clinic offers this imaging test as an alternative for those who do not wish to undergo an endoscopy. We have adopted a double-checking protocol where two separate doctors interpret all medical images.

Chest CT

The chest CT, a useful tool for early detection of lung cancer (the leading cause of death by cancer *), is also included in the standard course. The 80-slice CT scanner will take images of the lungs and mediastinum. The quality of the images is much higher compared to the chest x-rays.
* 2017 Statistical Data from the National Cancer Center Cancer Information Service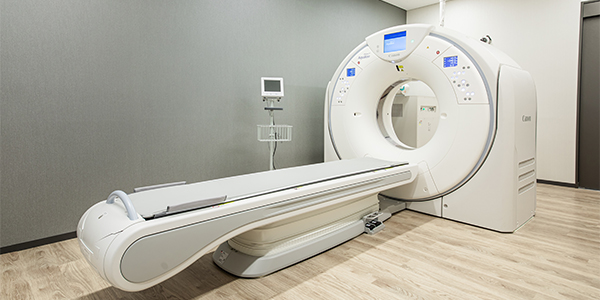 Three types of tumor markers

The standard course includes tumor marker testing for CEA, to detect gastrointestinal cancer (colorectum, rectum, stomach), lung, breast, pancreatic, uterine and cervical cancer; CA19-9, to detect gastrointestinal cancer (pancreas, gallbladder, bile duct); PSA for men, to detect prostate cancer; CA125 for women, to detect ovarian cancer.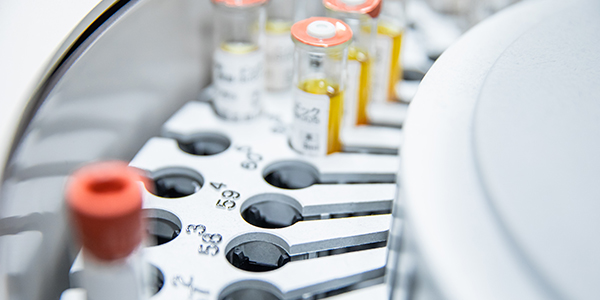 Original health screening course with a meal coupon
The clinic's original health screening courses all come with a meal coupon. You can use it at any of the designated restaurants.
* Included in the Basic comprehensive health screening, Ladies course, or Midtown course. NOT included in the digestive specialty course, gynecology and breast exam course and/or other specialty courses.
* Individuals receiving subsidies from his/her Society-Managed Health Insurance or a discount through the welfare service are NOT eligible for these benefits.
* Due to the restaurant's reservation availability, the meal ticket does not guarantee services on the day of your choosing. (Please confirm the expiration date before the use of each meal ticket.)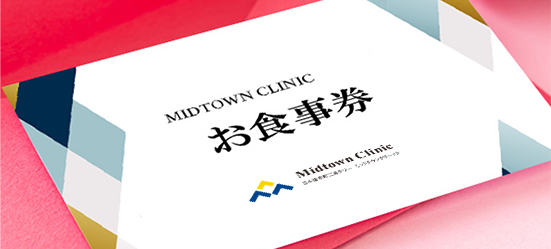 * Included in the Basic comprehensive health screening, Ladies course, or Midtown course. NOT included in the digestive specialty course, gynecology and breast exam course and/or other specialty courses.
* Individuals receiving subsidies from his/her Society-Managed Health Insurance or a discount through the welfare service are NOT eligible for these benefits.
* Due to the restaurant's reservation availability, the meal ticket does not guarantee services on the day of your choosing. (Please confirm the expiration date before the use of each meal ticket.)